CHANGING LIVES FOR THE BETTER!
Martial Arts schools always promote their sport through benefits such as building confidence, self-defence, fitness, flexibility etc. All great reasons to enrol your little one into one of the many martial arts there is to offer.
At Wirral and Chester Taekwondo we also believe these are fantastic reasons to join, as well as the fact that their children (and the parents) will make friends for life, and enjoy being part of a friendly, community focused club. But, until we introduced our Ninja programme recently, we really didn't appreciate the real value our sport and programmes could add to the lives of some of our littlest students.
We introduced our Ninja programme in January 2018 after we visited the U.S. and hooked up with one of their leading experts in the children's martial arts industry, Melody Johnson (Schuman). Melody is a 6th degree black belt and has over 20 years of experience researching childhood development as it relates to sports, coaching, and parenting. As a result, Melody designed programmes that tailored the skills of martial arts to a child's stage of development specific to their age. This is a big change for us. As a traditional martial arts school, we always stuck to tradition (which is important) but this tradition was universal and would need to connect with some of our hardcore adults, as well as children as young as 3! And it didn't always work well.
We decided to use Melody's approach with our younger students and introduced 2 core programmes; Mini Ninjas for ages 3-4 and Little Ninjas for ages 5-6. The programmes break down 8 key skills specific to the age groups, and the students focus on one skill per session to keep things simple. These might be skills such as kicking, punching, catching, running etc for 3-4-year olds, all things they are learning to master at their age. For our 5-6-year olds we focus on teamwork, balance, co-ordination etc. all while incorporating the core skills of Taekwondo. The children are rewarded weekly with a skill sticker or a coloured stripe on their belt, which they love. The constant reward works brilliantly for building confidence and brings a real sense of achievement for them.
All great hey? Our sign-ups are at a record high for these age groups and we love teaching these programmes. But more recently we've all been humbled by 3 of our students across these programmes. Let me share a little about them.
Meet Joseph, he is 3 years old and only last year went through major brain surgery!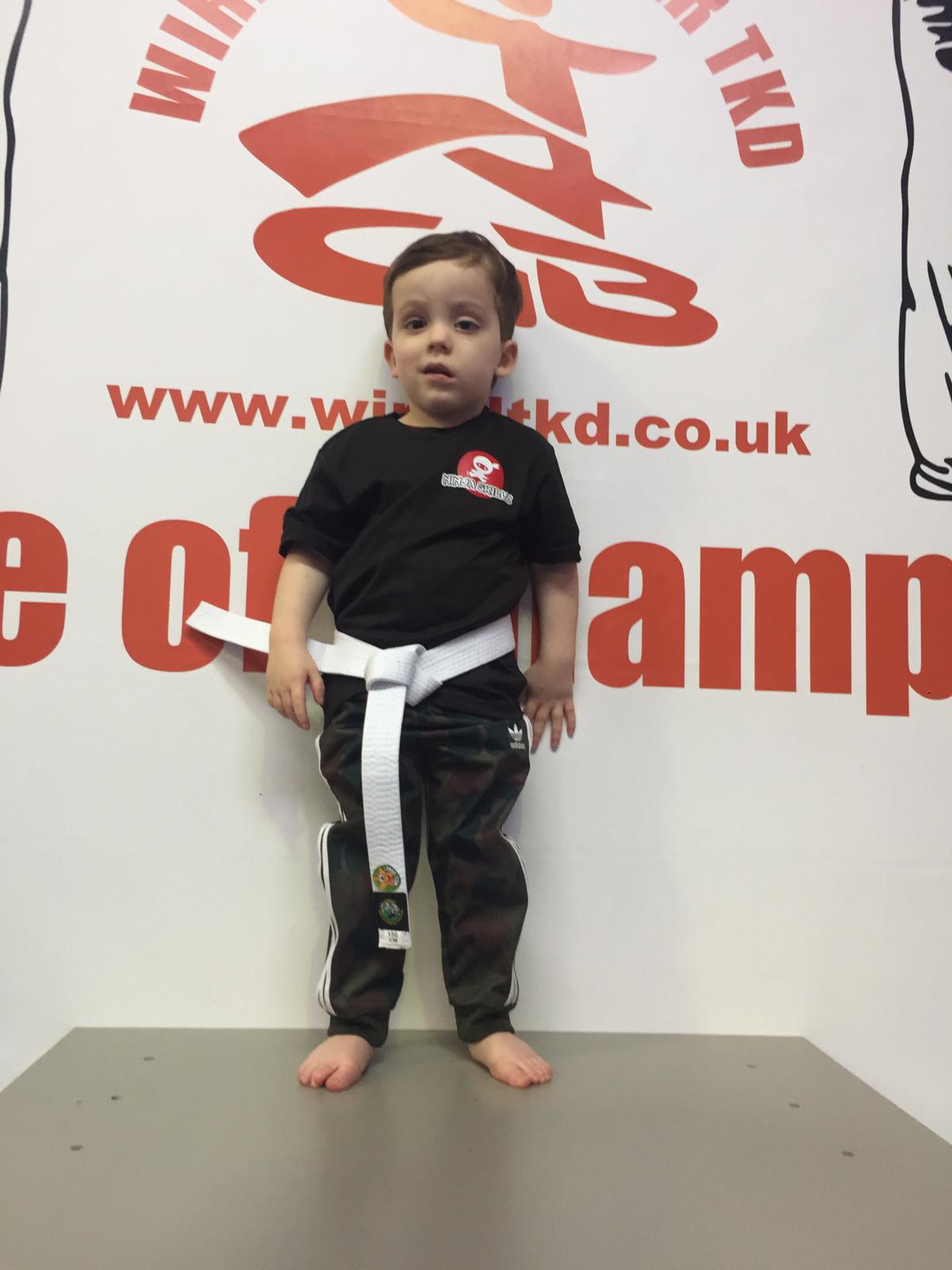 His Mum contacted us as the doctors had recommend some sport, such as a martial art, as extra rehabilitation alongside his physio sessions. Joseph had to learn to walk and talk again and become the independent little boy any mum and dad of a 3-year-old would love to have.
Joseph's Mum was surprised to hear that the skills we cover each week were similar to the exercises the physio teams used with Joseph, but was, understandably, nervous that he wouldn't be able to cope. Fast forward 4 months and Joseph is pretty much 80% independent in the class and has built strength and confidence over this period. Of course, his physio is the main reason, but our programme has added extra opportunity to build these skills, as well as taking Joseph out of a hospital environment. We just love seeing Joseph each week, he's one of the politest children we've come across and are very proud of his progress.
Next meet Sebastian, he's 5 years old and is in our mini Ninja programme for 3-4-year olds.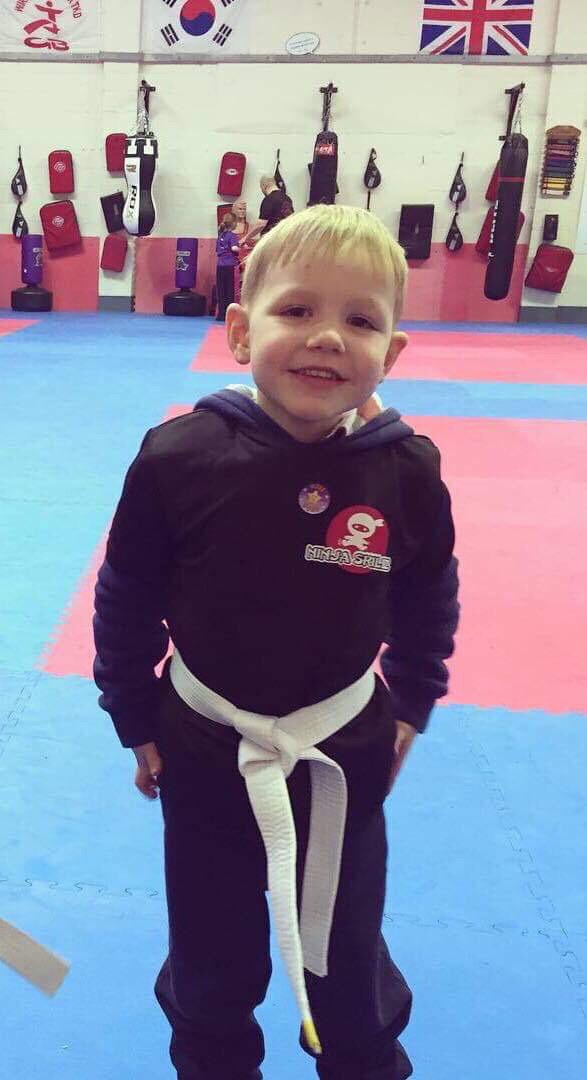 Sebastian has cerebral palsy and like Joseph attends regular physio sessions to help build his mobility and strength. We put Sebastian in the younger programme to allow him to build his confidence and he loves it! He has thrived over the last few months and even his mum agrees:
"I think it's brilliant for his confidence, the sessions cover the key areas that he does in physio so it's like another session. I love that it's inclusive and he is able to do all the aspects that other children do without feeling different"
Finally, we have Freddie. He's in our Little Ninja programme for 5-6-year olds. We actually didn't realise Freddie was under a consultant at the wonderful Alder Hey, until his Mum approached us recently, buzzing. She told us that Freddie has Exomphalos Major (I know, I'd never heard of it either!)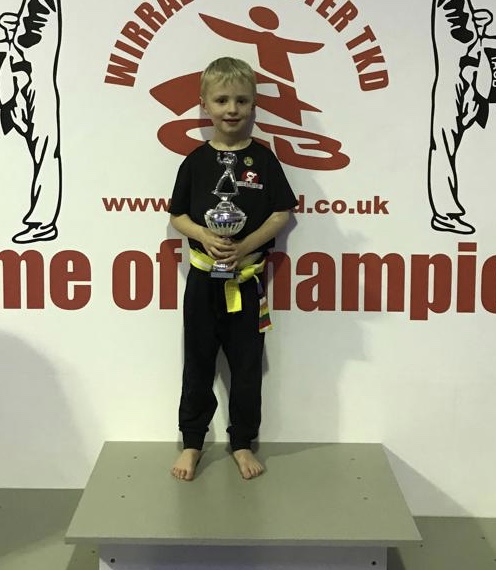 Basically (or according to the internet) Exomphalos Major is a weakness of the baby's abdominal wall where the umbilical cord joins it. This weakness allows the abdominal contents, mainly the bowel and the liver to protrude outside the abdominal cavity where they are contained in a loose sac that surrounds the umbilical cord.
Freddie has had numerous surgeries since he was born to save his life and the last surgery didn't go according to plan, leaving Freddie with a very poor core. He has a lot of scar tissue, and the muscles in his stomach were virtually non-existent! He was on track to be heading in for further surgery to help improve this. However, at his recent appointment, the consultant was pleasantly surprised to report that Freddie's core had improved significantly, and she was confident that surgery wouldn't be needed! When probing Mum on what he had been doing, she explained about the ninja programme and the consultant's response was for him to carry on as it's working wonders!
Such fabulous news for Freddie and his Mum and Dad. "As a family we are thrilled at the progress Freddie has made during his time at taekwondo. I as his mother cannot express the heartbreak, we have suffered to watch Freddie go through so much at such a young age. To be told that surgery is now preventable is nothing sure of a miracle!
Taekwondo has not only supported Freddie in his core strength it has given him confidence and he thoroughly enjoys it. We are so proud of Freddie and so grateful to the team at Wirral and Chester Taekwondo"
So Martial Arts has many benefits, but the best ones are those that change lives for the better and these 3 make our job the best job in the world!